Konsti is a sign-up application for role-playing games, developed by volunteer coders. This year, we are also using Konsti to handle larp sign-ups.
How does Konsti work?
First of all, head over to the address ropekonsti.fi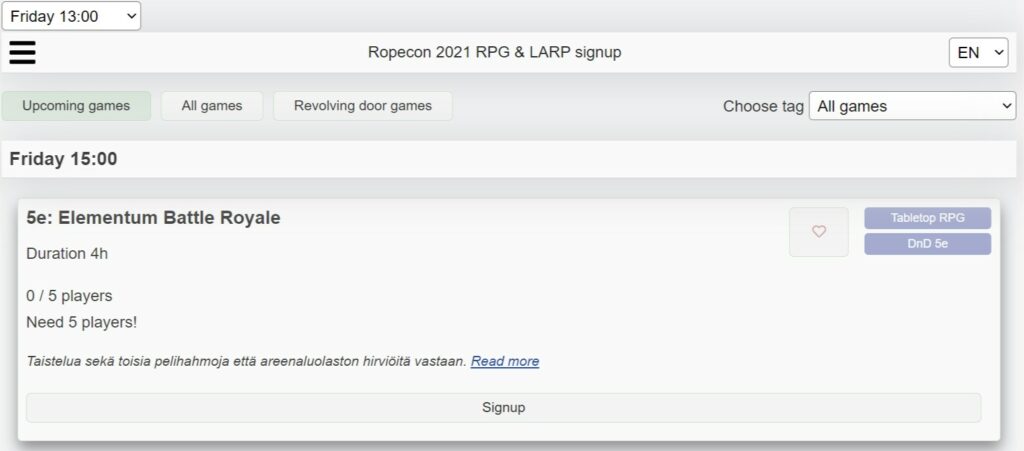 From the menu in the upper left corner, you can switch between views. From the drop-down menu in the upper right corner, you can change between Finnish and English, or filter games by their tags.
Creating an account
If you do not have an user account, you must first register into the app by clicking the menu on the upper left corner and selecting Register. If you already have an account, you can find the Login page in the same menu. You can register a new account even if you already have one from a previous year.
To create a new account, you only need a username and a password. We ask that you use the same username as you do on Discord, so that the game masters can keep track of arriving players.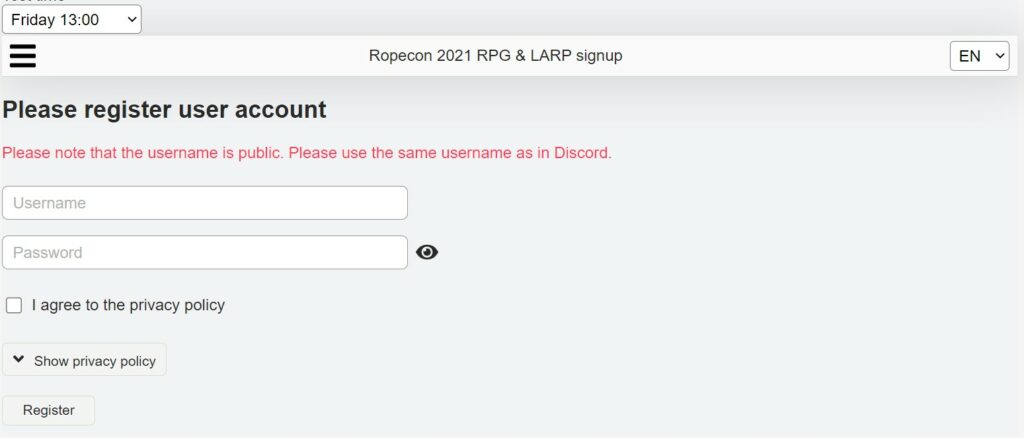 On your first login, you will see the following text at the top of the page:

"Save this code to retrieve your password: XXXXXXXXXX.
This message is only displayed upon your first login. You may also find the code
from the navigation menu.
"Ota koodi säilöön salasanan palauttamista varten: XXXXXXXXXX.
Save the code. If you forget your password, we will need the code to reset it.
Browsing the games
After logging in, you will see the menu on the left filled out. From All Games, you will find the complete list of game sessions offered at Ropecon this year. Under My Games, you will find the sessions you have either signed up for or marked as favourites. Under All Signup Results, you will find the player lists for the sessions, if as a game master you wish to find out who is signed up for your game, or wish to look for your friends.

From All Games, you can filter games according to their tags, mark them as favourites, and most importantly, sign up to play. The tag menu is in the upper right corner, under the language menu. We recommend using the tag menu especially if you are looking for larps, games in English, or beginner-friendly games.

The game listing shows every game's duration, number of players, and a short description. By clicking Read more, you will see a longer description, as well as the game's platform and Discord channel. Here, you will also be able to give feedback after the game.
You can add a game to your favourites either with the heart button on the listing, or by clicking the Add to favourites button on the game's own Konsti page.
Signing up
You sign up to games by clicking Sign up and then confirming the signup. Note that this year, unlike previously, there is no signup raffle, and your signup is valid immediately. If you wish to cancel your signup, click Cancel. You will find the same buttons under My Games. 
What if I lose my password?
If you are unfortunate enough to forget your password, contact the role-playing game or larp administrators on Discord, and tell them your account's number code. You can contact members of the convention committee on more or less any channel just by asking.
If you have not actually signed up for anything yet, you can also just create a new username.
Player signup for tabletop role-playing games and larps opens on Monday, July 26th.
Happy gaming!
Role-playing game and larp adminstrators